Requirements for international visitors to Vietnam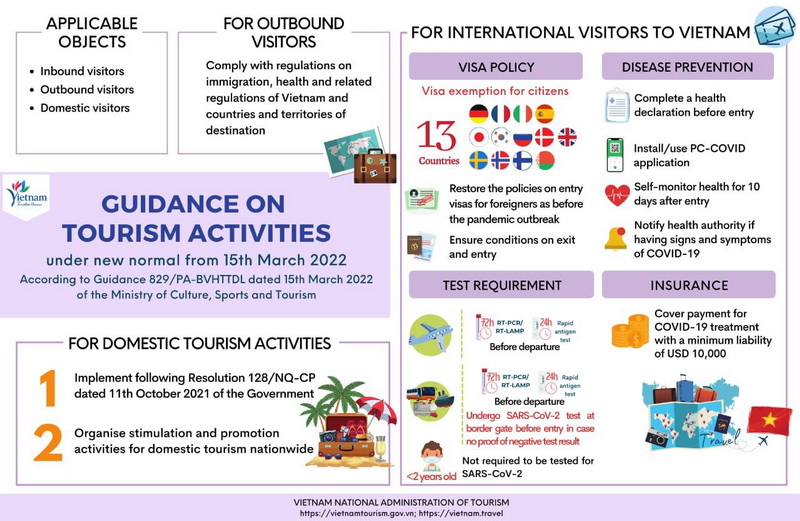 Have a negative SARS-CoV-2 test result using RT-PCR/RT-LAMP method within 72 hours before entry into Vietnam or have a negative rapid test result within 24 hours before departure certified by the competent authority of the country where the test is performed.

- For international visitors entering via land, rail, and sea border gates, undergo the test for SARS-CoV-2 at the border before entry in case of no proof of negative test result.
- Children under 2 years old are not required to be tested for SARS-CoV-2.
- Have medical or travel insurance that covers COVID-19 treatment with a minimum liability of USD10,000.
- Complete a health declaration before entry. (at https://tokhaiyte.vn)
- Install and use PC-COVID application.
- Self-monitor health for 10 days after entry.
- Notify health authority if having signs and symptoms of COVID-19.
- Ensure conditions on exit and entry according to Vietnam's immigration laws and other relevant regulations when travelling in Vietnam.

15 March 2022: Vietnam resumes the visa exemption policy for citizens from 13 countries.
The beneficiary countries are Germany, France, Italy, Spain, the UK, Russia, Japan, the Republic of Korea, Denmark, Sweden, Norway, Finland, and Belarus. Under the policy, citizens from the aforesaid countries shall not have to apply for a visa if the duration of stay does not exceed 15 days since the date of arrival.
The policy shall only be applicable from March 15 2022 to March 14 2025 and may be considered for extension.
Sources: baochinhphu.vn
------------------------------------------
Past news:
When to expect the reopen to Vietnam?
Vietnam is going to open the country on 15 Mar 2022, let prepare to travel with us!

Can we book our holiday now?
Yes, we are welcoming all bookings. Because of the Covid-19, we will hold your booking until 14 days prior to the arrival date without a deposit for both conveniences.

What will be the entry requirements?
As always, you are required for a valid passport and visa to Vietnam. You are possibly be requested to hold a vaccine passport, PCR test upon arrival, or a certain quarantine period upon Authority requirements.

What will travelling like in Vietnam?
You expect to follow some standard hygiene measures like wearing masks in public places and in vehicles and frequent hand-sanitizing. Guides and drivers will be wearing masks and hotels will practice contactless check-ins. The vaccination program in Vietnam is going on and we expect 2/3 of our population to be vaccinated by the 4th quarter of 2021.

Since March this year, the local demand for travelling is very high some places had denied receiving more visitors.

PLEASE NOTE: Due to the current situation, many of our staff are working from home so the responding may come not fast as usual. All your inquiries can be sent to info@jeweltours.com. Thank you for understanding!
*We can help you to get a visa to Vietnam for business purposes.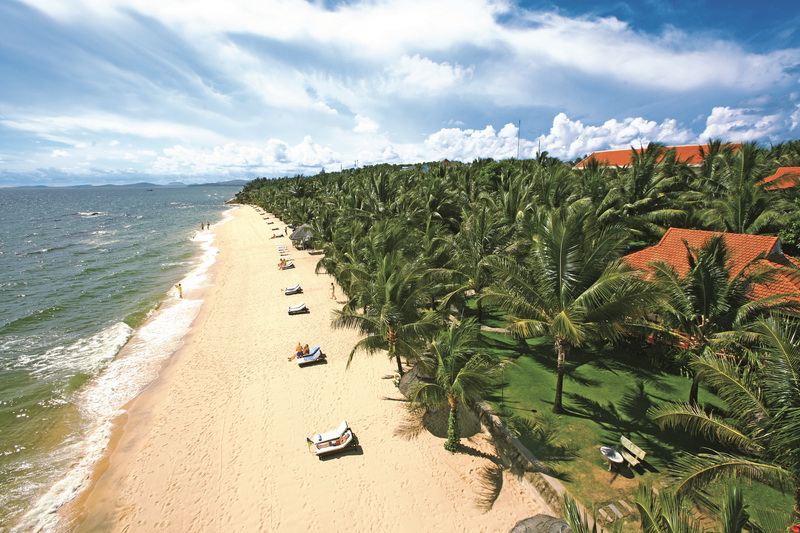 15th Feb 2022:
Vietnam has decided to open all international commercial flights from today 15 Feb 2022. We are waiting for guidelines to greet travellers to Vietnam as well as the agreement with your countries. Country will fully be opened on 15th Mar 2022.
23rd August 2021: Vietnam news (VGP sources)
The Ministry of Health confirmed 10,397 new COVID-19 cases on Monday, raising the national patient tally to 358,456.

6,021 domestic cases were detected in the community. The same day, the ministry reported 6,945 new recoveries, bringing the number of recovered cases to 154,612.

It also announced 389 further fatalities, sending the death toll to 8,666. With 298,376 vaccine doses inoculated today, the total number of doses administered reached 17,364,569, with 1,834,348 people fully vaccinated.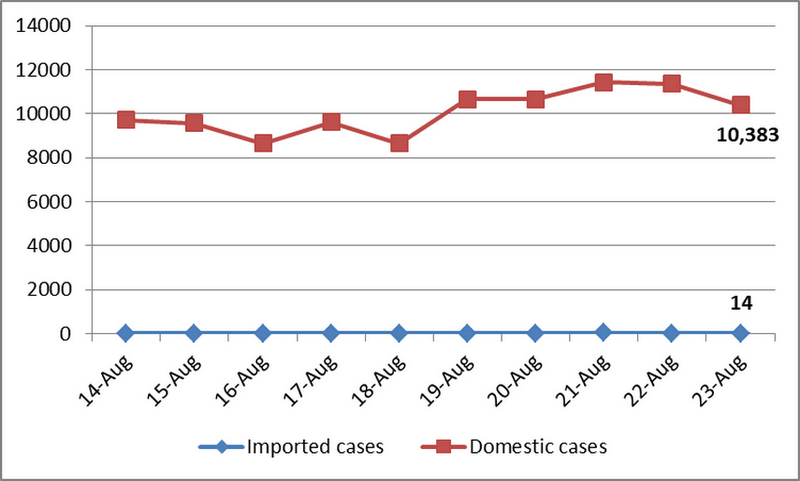 23rd July 2021: Vietnam news (VGP sources)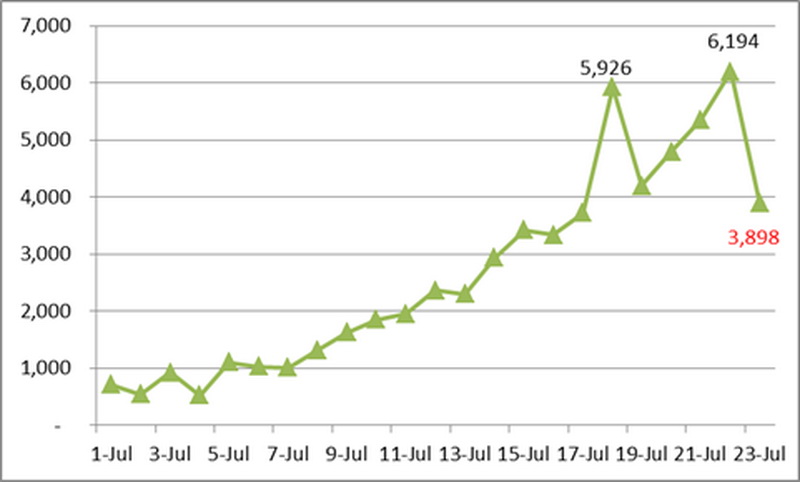 20th June 2021: Vietnam news (VGP sources)
As of Sunday morning, nearly 2.4 million doses of COVID-19 vaccine had been administered in the country, with 115,315 people having been fully vaccinated.

*On June 20, Viet Nam received 500,000 doses of Vero-Cell vaccine produced by Sinopharm. The vaccine will be used to vaccinate Chinese citizens working in Viet Nam, Vietnamese who intend to go to China to study and do business, and people living in areas bordering China.

* Earlier, on June 16, nearly one million doses of AstraZeneca COVID-19 vaccines donated by the Japanese Government arrived at Noi Bai International Airport in Ha Noi, paving the way for the largest-ever COVID-19 vaccination campaign in Ho Chi Minh City.

* The Government on June 19 issued a resolution on the purchase of 30 million doses of the AstraZeneca COVID-19 vaccine imported by the Viet Nam Vaccine Joint Stock Company (VNVC).

* HCMC imposed stricter social distancing measures against COVID-19 by banning gatherings of more than three people and requesting people to maintain a minimum distance of 1.5 meter in public places, suspension of all non-essential businesses and services as well as street markets. The city also requested local residents refrain from going outside, except for food, medicine, emergency care, or working at factories.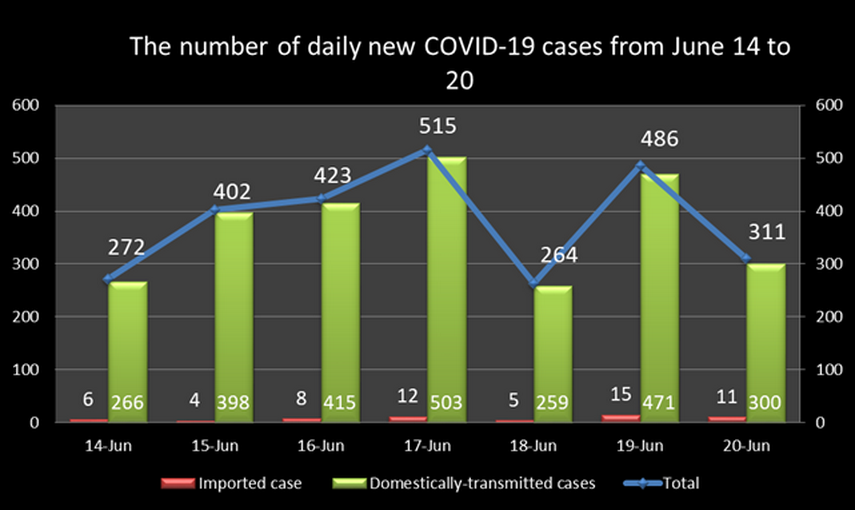 8th June 2021: Vietnam news
The latest patients include one imported case and 75 local infections recorded in Bac Giang (55), Ho Chi Minh City (10), Bac Ninh (four), Lang Son (five), and the National Hospital for Tropical Diseases (one). The ministry also reported that a 51-year-old man in Hung Yen province became the latest Coronavirus-related fatality, raising the death toll to 54. (News from VGP)
In the last few weeks, Authorities and Locals have been fighting against Covid-19 in Hanoi, Ho Chi Minh, and some industry zones like Bac Ninh, Bac Giang (Near Hanoi). Luckily, it is under control now, even though the social distancing and unnecessary goods remain closed. the national total affected cases updates on 8 June 2021 are 9,027.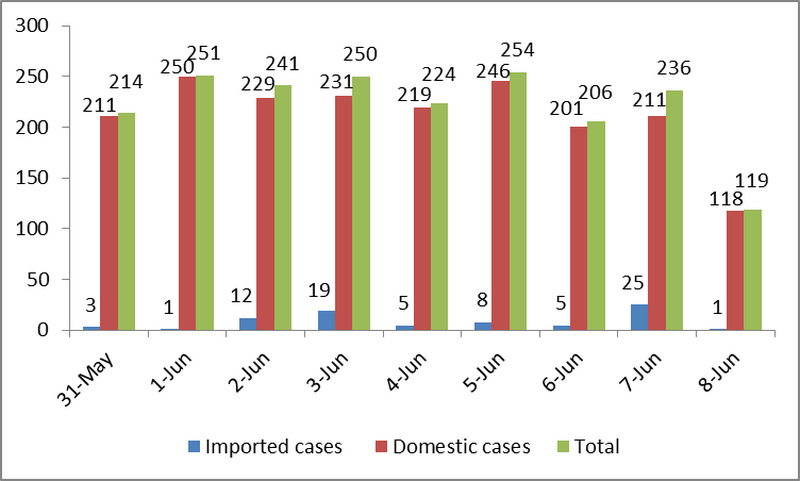 16th May 2021: Vietnam news
The diagram by VGP below may show the Covid-19 situation in Vietnam, we are doing our best to control the spread. Most of the new positive cases come from the guarantined areas.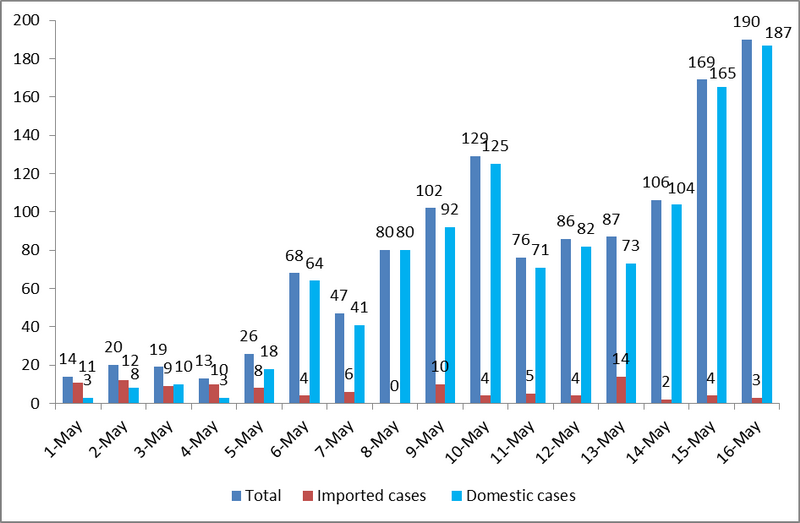 13th May 2021: Vietnam news
The COVID-19 tally in Viet Nam stood at 3,623 as of 6:05 pm on May 12, including 2,180 local infections and 1,443 imported cases. Of the national caseload, 2,618 patients have recovered and exited hospitals while the death toll remains at 35. As many as 887,705 people have been vaccinated against COVID-19 from March 8 to May 11 (News from VGP). There are 40 cities and provinces nationwide closed due to Covid-19 spreading.
4th May 2021: Vietnam news
VGP – Vice Chairman of Ha Noi Municipal People's Committee Chu Xuan Dung has ordered the closure of cinema centers, massage and spa services, gym clubs from May 5 amid the complex evolution of COVID-19 pandemic.
Residents are encouraged to avoid mass gatherings at public places and must wear masks and keep a distance of one meter from each other at public places.
Earlier on Monday, the municipal authorities decided to close all schools from kindergarten to high school levels from May 4 until the next announcement. The city also ordered relic and religious sites, street eateries, iced tea stalls, and cafes to close doors from 5:00 pm on Monday to prevent the risk of COVID-19 transmissions.
Meanwhile, restaurants and coffee shops serving customers indoors shall have to erect dividers between seats or ensure customers are one meter apart from each other. The capital city asked these establishments to encourage takeaways
Over the last week, Viet Nam recorded dozens of community infection cases linked to Vietnamese and Chinese nationals who tested positive for the virus after undergoing 14-day mandatory quarantine period

2nd May 2021: Vietnam news
There are 3 new local infection people who are natives of Ha Nam Province and linked to the patient returning from Japan 2899, raising the total number of COVID-19 cases to 10 locally. Meanwhile, 11 Vietnamese were brought home from Japan (5), the United Arab Emirates (1), Canada (one), Romania (1) or returned to Viet Nam (3) via the Cau Treo border gate between April 13-29. The same day, 33 patients were declared free of COVID-19, taking the total recoveries to 2,549, said the ministry. Anyway, we are encouraging people should not travel to crowded area and follow the 5K policy (face mask, hand sanitization, keep distancing, not travel in a group, medical registration) to protect ourselves from Covid-19 which is critical in Cambodia, India and some other Asian countries.

14 April 2021: Cambodia news
The government has decided to place Phnom Penh in lockdown for two weeks, effective April 14 midnight through April 28, as Cambodia continues to grapple with the ongoing community outbreak of Covid-19, which has seen no sign of subsiding. According to a directive signed by Prime Minister Hun Sen late on April 14, the lockdown also covers Takmao – the Kandal provincial town – which he said was interconnected. During the lockdown, residents are not allowed to leave their homes except when shopping for food and other necessities, in which case only two family members are permitted and at no more than three times per week. The exemption is also granted to those who need to commute to work or go about their business as long as they have a permit from employers or the relevant authorities. Residents are allowed to leave their area for medical reasons or other emergencies, in which case no more than four persons are permitted. Also exempted are diplomats, staff members of embassies, missions, foreign NGOs, organizations under the UN umbrella, and international financial institutions. More information from Phnom Penh post at this link https://www.phnompenhpost.com
30 March 2021: Vietnam news
At beginning of April, the first 800,000 AstraZeneca vaccine doses will arrive in Hanoi which is provided by Covax Facility program. The Covax Facility Program committed to providing Vietnam a total of 30 million doses, 4 million will be transferred latest by the end of May 2021, and the rest gradually transferring until the first quarter of 2022. Furthermore, Vietnam has contracted to buy 30 million doses from AstraZeneca. In Vietnam, we are testing the third round on people with a local vaccine Nanocovax. A positive result will give us the independence in COVID-19 vaccination. This morning 46,000 people had dosed the Covid-19 vaccines most of them reacting normally as the announcement.
28 March 2021: Vietnam is considering opening international borders for travellers who hold vaccination passports.
15 March 2021: A newly pagoda Tam Chuc is away from Hanoi about 1-hour drive, ten thousand pilgrims paid a visit to the pagoda on 14 and 15 March.
5 March 2021: Vietnam will open all activities on 8 March 2021 after a month of Covid quarantine. On 24 Feb, 117.000 Covid-19 vaccine doses of AstraZeneca arrived in Viet Nam, these vaccines will be dosed for the medical services team and front line groups. We expect to receive all 60 million doses within 2021 for priority groups include tourism and hospitality and then to all public. This great signal will open a possibility for international tourism return by the 3rd quarter this year. Let's wish for our reunion by then and remember that, we receive inquiries daily.