Jewel Tours established in 2005 by Mr. Thanh Tien Dinh. We operate tours to Vietnam, Cambodia, Laos, Thailand, Myanmar and Asia destinations mentioned on our website. All the destinations selected by the Owner of Jewel Tours focusing on authentic holidays treat clients as an individual, support sustainable tourism. Here under our Trade License and Tour Operator License

Company Name & Logo trademark registered No: 121537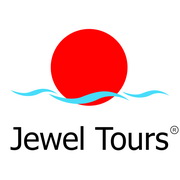 Financial Guaranteed by VNAT
As a licensed international to our operator, we are legally bound 250.000.000VND (USD15,000) to maintain a substantial bond in a holding account at a government bank in Vietnam for your protection.
Vietnam head office
Company full name: Asia Jewel Tours and Trading Joined Stock
Short Name: Jewel Tours., JSC Vietnamese Name: Công ty Cổ Phần Thương Mại và Du Lịch Ngọc Châu Á
Head office: 422 Truong Dinh, Tan Mai, Hoang Mai, Hanoi, Vietnam
Trading license: 0103009708 International license: 01-043/2014/TCDL-GPLHQT
Phone: +84 243 3974 6373 | Fax: + 84 243 3974 6374 Email: info@jeweltours.com | Website: www.jeweltours.com
Cambodia Operation Office
Address: No. 19-20 E0, Street 371, Phnom Penh
Thailand Operation Office
Address: 1032/1-5, RAMA 4 Road , KRITS BuildingTungmahamek , Sathorn10120 Bangkok, Thailand
WHY JEWEL TOURS
Jewels are created by nature and earth for over millions of years and are valued as something precious, people have used jewels as ornaments, decorations, and trading throughout history. Today jewels are used to create valuable jewelry for decoration. Jewels are valuable, polished, and refined, and this is what we want to portray in the services which we provide and what our employees create in order to bring our travelers the best experience of every destination. We value jewels as we value our customer, for that reason we are named Jewel Tours with the slogan of "The Authentic Travel Company"

OUR PRODUCTS
Package tours for individuals, groups, and MICEs
Transportation
Visa services
Flight booking

OUR SERVICES
Tours: We always do our best to make authentic itineraries in accordance with the comfortable and affordable for your holiday, meeting, incentive, conference, or exhibition
Accommodation: We able to make reservations at any hotel, from luxury hotels to home-stay with bed and breakfast. We work around your budget and offer the best accommodation possible at the time you make the booking
Local guides: We believe that the best way to experience a country is through local people that know the ins and outs. That is why we choose our guides that are originated from and are knowledgeable about the destinations in question. This ensures that your trip will be a truly local and authentic experience. We provide tour guides in different languages like English, French, German, Spanish, Italian, Russian, Thai, or Chinese

OUR COMMITMENTS
Respond within 24 hours

Dedicated travel consultant to help you design your holiday

Personal select accommodation and services

Qualified local guides

Value for money

Responsible and sustainable

Guaranteed holiday satisfaction

OUR VISION
Provide authentic holidays
Treat clients as individual
Support sustainable tourism

Words from our CEO
I have been a tour guide, a tour leader since 1996, meeting and serving travelers around the world. Most of the tours I have been required to adjust something during the trip to meet the true customer's expectation that gave me more inspiration for setting up a tour operator. That is how Jewel Tours found with the mission to satisfy travelers' needs and expectations.
Our mission is impossible without you. Many thanks and best wishes
Thanh Tien Dinh