Halong Bay - Wonder of the World, a true beauty and an absolute must-do for every Asia traveler! Read about my trip to this unique place, culinary try-outs and an intense cultural experience!
As one of the highlights of my Vietnam stay I went on a Jewel Tours trip to Halong Bay on 26th May. I have been to almost all well-known tourist destinations in the country but this one still had me the most excited: driving through the countless isles of Halong Bay, wonder of the world. I traveled with a small group of internationals that had also booked via Jewel Tours – it was a really fun group, I'm so glad I met them.
First stop on our trip to Halong was the mighty Côn Sơn Pagoda, one of Vietnam's largest temple complexes. It was an incredibly impressing experience walking through the huge golden rooms that were covered in ancient paintings and big Buddha statues
Culture enthusiasts: please note! Driving along, we made another stop at a traditional handcraft store, where hundreds of different objects were being exposed for visitors to see and shop. A very interesting place! Finally we carried on and after only a few hours, arrived in Halong.
We were accommodated in a supreme 4 star Hotel directly by the coastline. Going for lunch we were surprised be the hotels spectacular view over Halong Bay and the picturesque nature around. During the afternoon we explored the exciting neighborhood, visited some of the local cafes and ultimately watched the sun go down in the beautiful scenario of limestone karsts. For dinner we were brought to this excellent restaurant just outside the city centre. Eating traditional Hot Pot and drinking typical northern Vietnamese beer we experienced the taste of the North.
Are you a fan of new tastes? This one has to be on your list! With full bellies and happy faces we went for a digestion stroll and visited the local night market, before, ultimately, we went back to the hotel and to get some rest for next day's big adventure.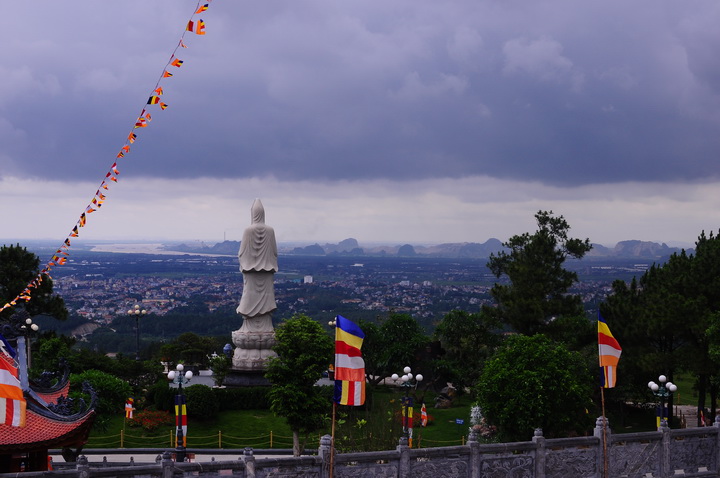 The next day, 8 am, we left the hotel for what would be the highlight of the whole trip: a one-day cruise through the marvelous Halong Bay. On a wooden cruise ship we drove through the dense network of vegetation-covered limestone isles on turquoise water – a truly unique adventure! If you are a fan of untouched nature and peaceful landscapes you should definitely come and see Halong Bay! After about three hours we got to a service station in the middle of the bay.
A beautiful natural beach offered perfect opportunity for those seeking relaxation, water enthusiasts could refresh themselves in the sea and adventurers could hike up the mountain to gain an incredible view over Halong Bay. This trip has all you need!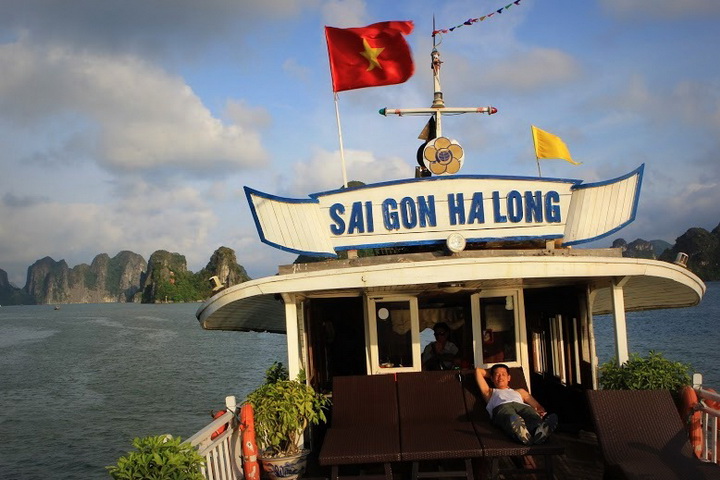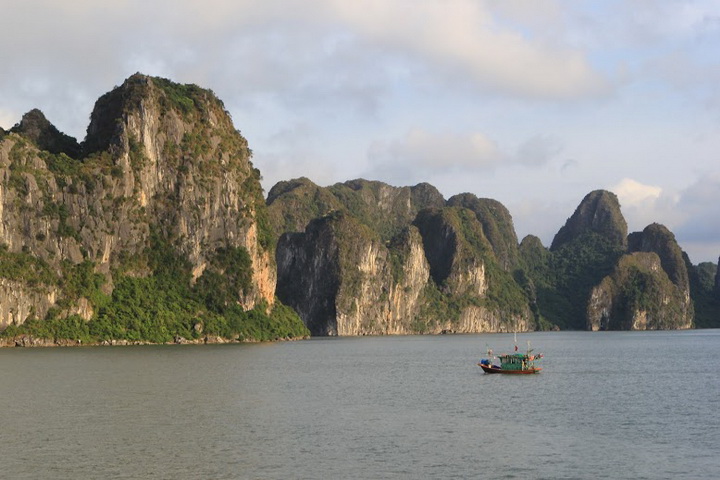 After a few hours on the beach we came on board of our boat again and headed back towards Halong. Sitting on the boat's roof with a cold beer we witnessed one of the most beautiful sunsets I have ever seen – a must-do for every romantic! And the day was not over yet: after a quick refreshment at the hotel we were brought to a beautiful local restaurant amid the city centre.
Fresh seafood on countless plates created the perfect dinner for our exhausted bodies. Many plates and beer later we went to a local Karaoke bar and sang along to Vietnamese and international hits. More Vietnam in a day? Impossible.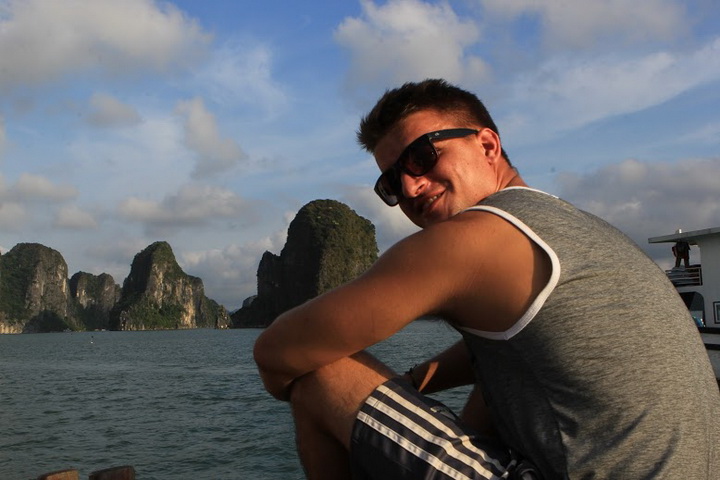 Next day after breakfast we made our way back to Hanoi. On the way we stopped at two more interesting places: first at another craft market where learned about the processes involved in making traditional cloth art, and then at Kiep Bac Pagoda, a beautiful antique temple site. After a good lunch at a local restaurant we entered the bus again and set forth towards Hanoi. It had been truly amazing three days: incredible nature, excellent food and a big portion Vietnamese culture – just what every Vietnam holiday needs!