Hanoi is a paradise of spectacular foods where you can find the most delicious dishes of Northern Vietnam gathering in this place. You can enjoy traditional food in restaurants or road side stalls. Fresh ingredients are normally used which are brought from the market every morning. However, this huge number may make visitors confused as they don't know which ones they should take first within only a few days in the city. This blog may help you to solve that difficult question by introducing the top foods that you should not miss when traveling in Hanoi.
1. Pho (Noodle soup with beef or chicken)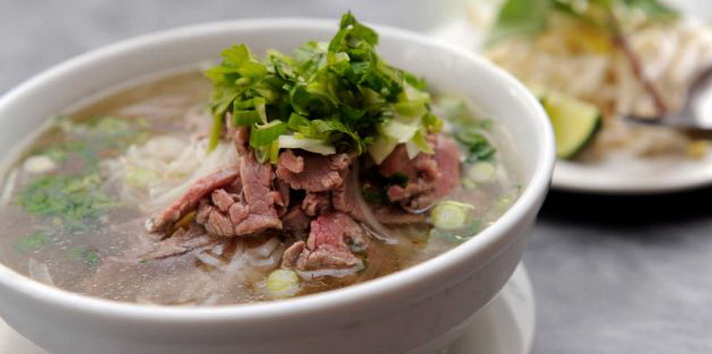 Hanoi is proud to be the home town of this world-famous dish, so it is no doubt the city is the best place to enjoy Pho. The most two common varieties of Pho are Pho Bo (beef noodle) and Pho Ga (chicken noodle), which are rice noodles filled with soup from pig or chickens' bones and beef tenderloin or beef brisket, and chicken wing or chicken thigh.
Only in cold days, having a hot and sweet smelling bowl of Pho to enjoy would make you experience the complete flavor of the special dish of Hanoi. Bat Dan and Ly Quoc Su street in Old quarter is places you can find the best bow of Pho.
2. Bun cha (Dry noodle with grilled meat)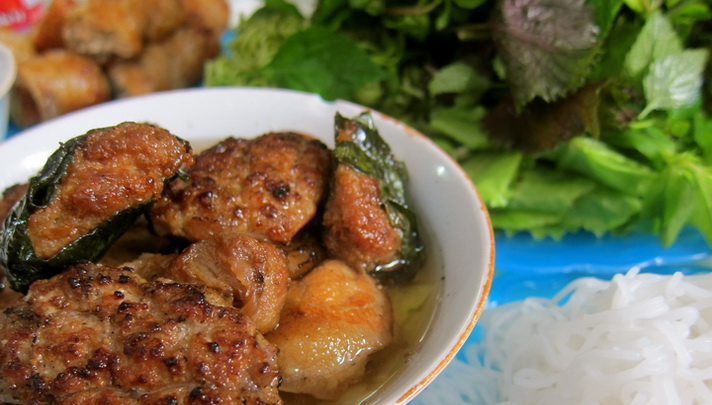 As the name implies, this dish originates from the city of Hanoi in northern Vietnam, but is very popular throughout the country. It includes a cha (pork sausage patties) and grilled meat. Both grilled meats are soaked in fish soup, allowing it to soak up all the flavors of the fish sauce. The fish sauce using for Bun Cha is not the original one, it was mix with sugar, lemon, chili and garlic. When eating, you put the dry noodle into the fish soup bow then enjoy with meats and vegetables.
3. Bun Bo Nam Bo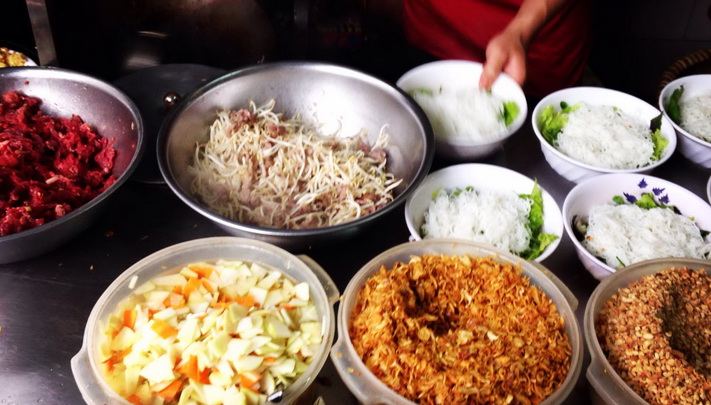 Bun Bo Nam Bo is my savior – tasty, filling and with a sauce rather than a soup. The body of the dish is vermicelli noddles topped off with stir fried beef. The beef is marinated and then briefly fried in garlic and lemongrass. It served together with classic Vietnamese herbs and bean sprouts and sprinkled with crushed peanuts. To finish thing off, a ladle of broth is poured over the dish, soaking everything and adding a bit of heat and even more flavor.
Try the restaurant at 67 Hang Dieu street in the Old quarter. It is one of the most famous places in town and a local institution.
4. Banh Cuon (Vietnamese steamed rice rolls/crepes)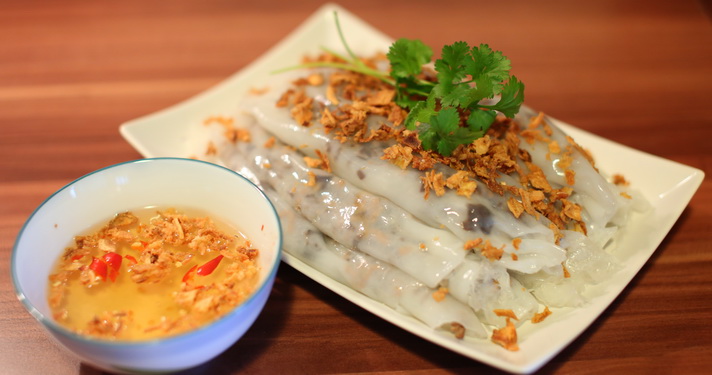 Banh Cuon is the perfect holiday detox food. It is a very light crepe often with ground pork, minced wood ear mushroom, and onions and eaten with Vietnamese ham (cha lua), steamed beansprouts, and cucumbers. Another variation of Banh Cuon, the crepe is not rolled but kept in sheets without any filling, and sprinkled with fried onions.
There is a local stall in Dao Duy Tu street in Old quarter where Banh Cuon is kept in sheets and served with grilled pork meat.
5. Banh Khuc (Sticky rice with cud-weed ball)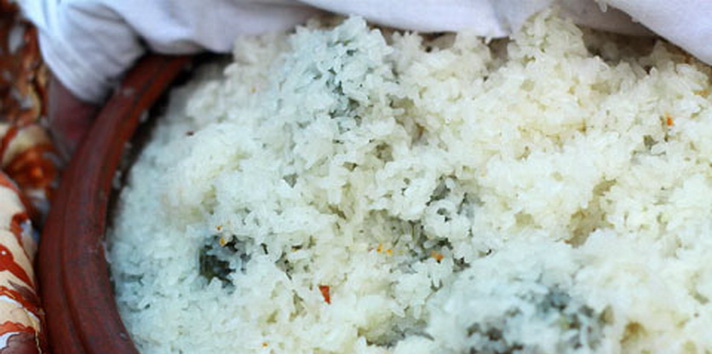 Banh Khuc is traditional cake of Vietnam and so delicious! The cake is a rice ball made of glutinous rice mixed with cud-weed (khuc leave)-most important ingredient and filled with green bean paste, pork, and spices. First, the cud-weed is washed, ground and then mixed with husked glutinous rice. Green beans, that are flayed and turned into paste after being cooked, are then added to the mixture. Finally, the cakes are sprinkled with grains of glutinous steamed rice.
Wishing to have the chance to satisfy your hunger for "Banh Khuc", you can visit cake stall at 69 Nguyen Cong Tru Street, that has been churning out "Banh Khuc" for years. Ms. Nguyen Thi Lan, the seller, has to hire locals in rural areas in Hanoi or in neighboring provinces to seek out the elusive cud-weed. In winter, it grows in abundance so enough has to be collected to last the summer. The surplus will be dried and stored.
If you would like to enjoy a lunch with above dishes on your Hanoi City tour, just ask our guide and he will make it happen! Alternatively, why not take a private tour just for enjoy Hanoi street food culture with Jewel Tours.